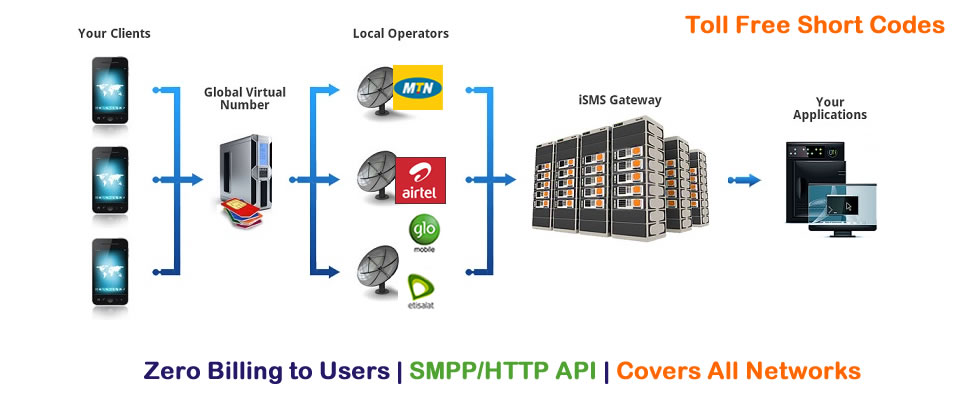 The amazing proliferation of mobile phones users in Nigeria has unraveled the untapped opportunities that lie within the telecom industry. Hence SMS marketing is becoming one of the most effective methods of communication. It is now "The Technological Wings" for the Mobile IT futuristic flight. Brace yourself.....


Toll-Free SMS environment is offered by InfoTek Perspective Services (Industry leader in this segment) which allows you to receive SMS from your customers and prospects without letting them incur any cost.
As 90% of Nigerian mobile users are pre-paid customers and out of them 80% generally have less than NGN150.00 as an average balance in their pre-paid account which always discourages them to send any SMS to query or as a feedback on a premium sms short code which generally charges NGN30.00, NGN50.00, and NGN100.00 per SMS.
Many surveys has showed that customers are more interested in communicating on a toll-free channel rather than on a toll channel like a premium or non-premium (regular billing plan) short codes.
Our proposed solution will feature:
SMPP or HTTP connection to Application Server; HTTP API will be provided for receive/send SMS integration
Short range number for aggregation to ensure network versatility and acceptance
Number aggregation to ensure coverage over all GSM networks – MTN, Glo, Etisalat, Airtel
Toll-free/ reverse billing for all messages sent from the general public regardless of GSM network terminator.
Acknowledgement response/Delivery Report procedure will be stated in the API.

Installation Cost Implications:
One-Off Setup Cost: N550,000.00 (Setup can take up to 16 weeks)
Quarterly Maintenance Fee: N195,000.00
Minimum Bulk SMS Escrow Account: 1 Million Units @ N1.50k each
Grand total of the above plus 5% VAT

How you are billed per SMS: For every sms that comes from MTN: 5 Credit Units are deducted from your Bulk SMS Escrow Account. Airtel deducts: 7.5 Credit Units. Etisalat deducts: 7 Credit Units. Glo deducts: 5 Credit Units
Developer Integration Cost Implications:
One-Off Developer's integration Cost: N120,000.00 (integration can take up to 2weeks)