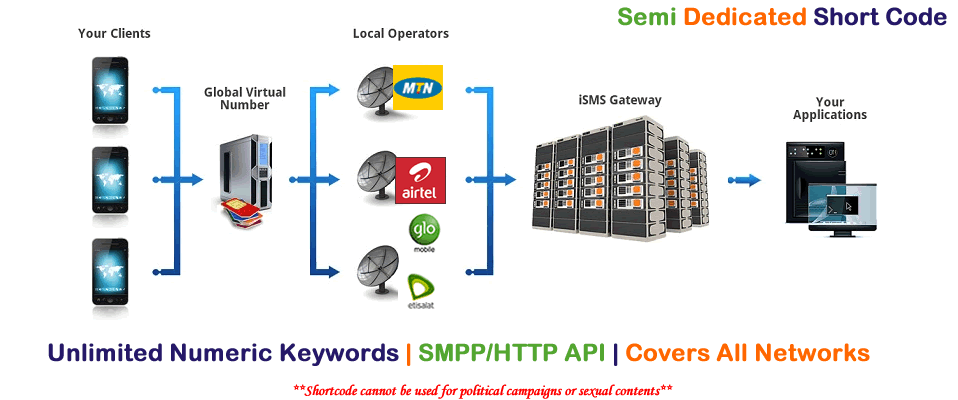 The amazing proliferation of mobile phones users in Nigeria has unraveled the untapped opportunities that lie within the telecom industry. Hence SMS marketing is becoming one of the most effective methods of communication. It is now "The Technological Wings" for the Mobile IT futuristic flight. Brace yourself.....



Demo Login

| | |
| --- | --- |
| | sms VOICEOUT to 32811 |
| | Click Here to login |
| | Login as User |
| | Username: user |
| | Password: shortcode |
| | Click on SMS REPORTS |

A semi-dedicated short code functions exactly the same as a shared short code except that the assigned keywords are only numeric instead of alphanumeric. A semi-dedicated short code gives you the flexibility of unlimited numeric keywords for your campaigns, plus your subscribers are able to reply back to you without additional reply sms cost.
Semi-dedicated short codes are for clients who intend to provide a range of different mobile services, expect a high monthly volume of messages or want to offer more complex 2-way services. Messages to the short codes are MO billed i.e. the user is charged once they send a message to the short code. Clients can choose their semi-dedicated number and tariff from a range of our short codes.
SMS Competitions
SMS Voting
Text 2 Win promotions
Informational Services
SMS Quizes and Trivia Questions
Prize draws
Selling eBooks and Songs
Charity SMS donations
Validation of Pins or Scratch Card Numbers
Mobile Banking
eTicketing for all events
Redeemable mobile SMS vouchers
Good for Resellers and Branding
We will provide an online web console for easy access to your short code messages realtime. 
NOTE: Setup costs N350,000.00 VAT inclusive and there is a No Monthly Access Fee. Setup duration can take up to 16 days after payment.

How To Sign Up:
Fill the Semi-Dedicated Shortcode form under FORM REGISTRATION
Click the BUY NOW button below to pay for Semi-Dedicated Short Code Setup Fee: